Over the summer of 2021, Oxy Arts hosted Encoding Futures: Speculative Monuments for L.A., an artist residency where four artists, Nancy Baker Cahill, Audrey Chan, Joel Garcia, and Patrick Martinez, were commissioned to create original, site-specific augmented reality monuments for a future Los Angeles. You can read each of the artists' reflections on their process in this series of articles and learn more about their projects here.
---

"Police unions (LAPPL/ALADS), enable and conceal abuses of power created by law enforcement. These associations pour a vast majority of funding into legal teams created to represent the officers who commit crimes on members of our communities. They allocate this funding to protect their employees from facing any type of legal consequences. The county has divested funding from our communities and poured that money into retraining the officers to no avail. You cannot reform a policing system that evolved from slave patrols. It never was, never will be neutral and for the people. Abolition is the only way to keep our communities safe. We must redirect the billions that now go into police departments towards providing health care for all, affordable housing, education, and good jobs. We envision a different version of safety, one that is free of law enforcement. One that our kids can grow up and thrive in, go to the parks and play basketball, walk to shoe stores, ride bikes, rollerblade, and just live their lives without having to worry about not coming home and being murdered by those who took an oath to protect them." ―Stephanie Luna (Aunt of Anthony D. Vargas, assassinated 08/12/18 by East Los Angeles Sheriff's Department)

"I don't understand who police actually need protection from. They are the ones with the power [who] are abusing it." ―Amir Whitaker, ACLU SoCal
An unremarkable office building stands at 1308 West 8th Street in the Westlake neighborhood of Los Angeles, on a block where pedestrians are outnumbered by drivers speeding to and from the 110 freeway and Downtown. The Los Angeles Police Protective League (LAPPL) aspires to monumentality, not through its physical presence (its headquarters building is unmarked), but rather through the resources it directs to its own entrenchment in the city's infrastructure, a seemingly immobile presence and obstruction to the public good. But like the monuments commemorating white supremacists across the South, the time for toppling and reckoning has come for police associations across the nation.
Since 1996, the current headquarters of the LAPPL has effectively stood as a living monument to state-sanctioned violence and community harm. Together with the Association of Los Angeles Deputy Sheriffs (ALADS), LAPPL has shielded law enforcement from criminal prosecution for atrocities committed against primarily Black and Brown communities across Los Angeles County since its founding in 1973, perpetuating a culture of impunity and blatant disregard for human life. Although they are commonly referred to as "police unions," police associations are not to be confused with labor unions. Police associations shield abusive cops from punishment. They use their funds to buy influence on local politicians, ensuring that tax dollars continue to flow into the coffers of police departments―the Los Angeles Police Department's proposed 2021-2022 budget is more than $3 billion1―and that community demands for accountability, care, and safety are never heeded.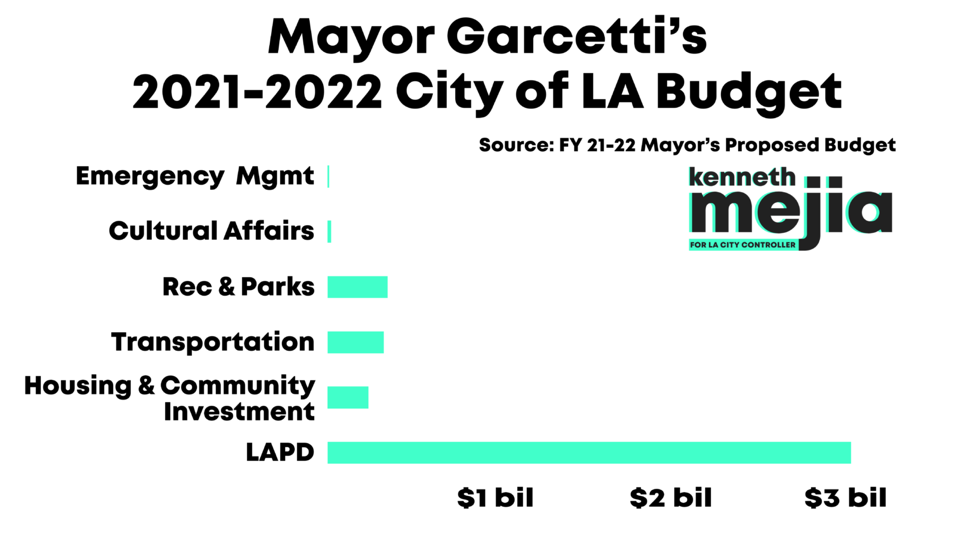 The violations of duty committed by the LAPD and Los Angeles Sheriff's Deputies include the murders of civilians, harassment of families grieving victims of police violence, detonation of explosives in a residential neighborhood, violent and fatal interactions with members of the unhoused and disabled communities, mental health checks that turn fatal, sexual harassment and abuse of cis and trans women, falsifying reports, and the list goes on. Additionally, there have historically been more than 18 active deputy gangs (also known as "cliques") operating within the Los Angeles Sheriff's Department that reward its members for terrorizing and using deadly force on civilians.2
My involvement with this site began in the summer of 2020 when I was the ACLU of Southern California's inaugural artist-in-residence. ACLU SoCal's Los Angeles offices are located directly across the street from the LAPPL headquarters, a physical metaphor of the ongoing battle for and against social justice. During that summer of pandemic and uprisings, ACLU SoCal organizer Andres Kwon proposed taking advantage of the building's strategic location to directly confront the LAPPL's corruption. It would be an art-activist corollary to Black Lives Matter's urgent and ongoing campaigns to Defund the Police and End Police Associations.[ref/]Jennie E. Park, "Audrey Chan's LA Mural for ACLU." Artillery Magazine, 31 Mar. 2021, artillerymag.com/audrey-chans-mural-for-aclu/.[/ref] After months of collaboration with ACLU staff, community partners, and an intrepid fabrication team, we worked to transform the façade of the building into a 3-story tall mural called "The Care We Create" that prominently features a call for demands for taxpayer money to be directed to services, not police.
Starting in March 2021, Black Lives Matter has staged a weekly rally on Wednesday afternoons, transforming this usually busy stretch of 8th Street into an abolitionist space where libations are poured, ancestors are called upon, radical stretching acknowledges the physical and emotional strain of activist struggle, and where grieving families and friends have a platform to both celebrate their loved ones lost to police violence and to express rage at their murderers and their murderers' protectors. Each week, Dr. Melina Abdullah and Baba Akili of Black Lives Matter Los Angeles point to the LAPPL building, demanding, "We want to see that building toppled!" They are currently working to remove the LAPPL's status as a labor union, noting that no reasonable labor union grants its members the right to kill.
As an artist participating in Oxy Arts' "Encoding Futures" summer residency, I was invited to develop a future-oriented virtual monument that addressed issues of equity and historical injustice. Dystopian aspects of "the future" that science fiction writers of the past could only imagine are already part of our world: predictive policing and sentencing, facial recognition surveillance of protestors, robotic police dogs, algorithmic technology as a source of entertainment and data mining by corporate and state entities.3 Like many others, I look to progressive community organizers and activists as our society's frontline avant-garde fighting for a police-free future that can't come soon enough. The residency created an opportunity to build a virtual model of what could come after the police association is rendered obsolete and its building vacated. Real estate developers are constantly creating visual placeholders for the future gentrification of tracts of city land. As part of a future-oriented abolitionist practice, we too should have our plans ready for the redesign and reimagining of the real estate currently held by police precincts, police associations, prisons, detention centers, et al. My proposal is indebted to current and future community centers and community-led organizations,4 campaigns for community-controlled development,5 and speculative design initiatives.6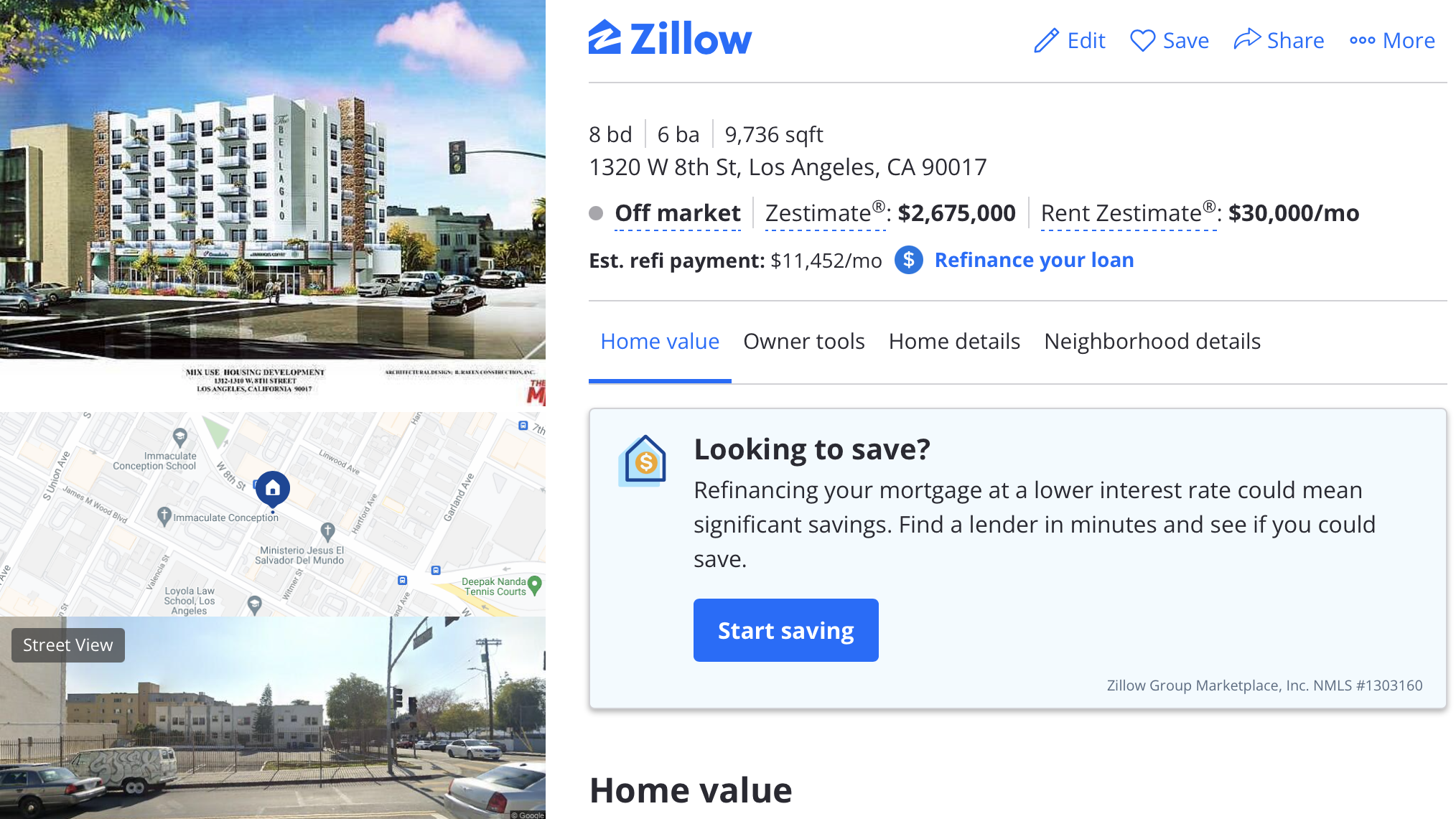 Soliciting input from key stakeholders and community members is an important part of my process of creating public artworks. I want people's dreams, desires, and complaints to inform the design and function of what we build together. For this project, I created a community survey that I distributed via social media. The survey questions and a selection of the responses are listed below. View all of the survey responses here.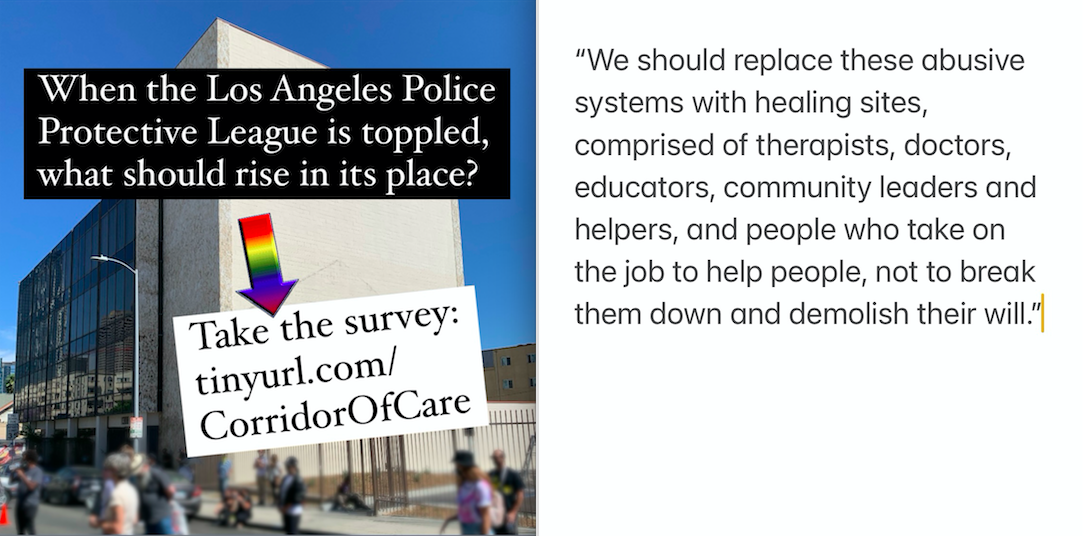 What do police associations represent to you and your community?

"greed, folks who are looking to line their pockets at any cost to the community, adults who refuse to take accountability for decades of corruption and abuses of power." ―monique
"Police associations represent how cops are in fact, above the law. They act with no regard to human life and do so because they have these associations to protect them. Police associations represent the blockade between the legal system and the families who are seeking justice for the murders of their loved ones at the hands of law enforcement." ―Stephanie Luna (Aunt of Anthony D. Vargas, assassinated 08/12/18 by East Los Angeles Sheriff's Department)
"Police associations are a microcosm of everything wrong with this country: they represent the absurd wealth (and thus power) of those who oppress us, they represent the constant backroom deals and corruption that plagues this country, they represent the immense funding that is poured into criminalization and policing while communities suffer. They do not represent me nor my community." ―Steven Chun (organizer/activist KTownForAll, JTOWN ACTION AND SOLIDARITY)
"Police associations create the perception that law enforcement is a political constituency and labor force when they are actually civil servants who are publicly funded. When teachers take this position we are treated as disloyal and selfish. Police act like it's their right to dictate policy, not their job to enforce it." ―Anuradha Vikram, UCLA/USC
"organized crime - they are parasites of our tax dollars and only serve to further enrich themselves at the cost of resources that would actually help our communities" ―Phillip Kim
"Right now in my hometown police associations do not represent safety. What do they represent? A system that harbors extremists." ―Elana Mann, artist



Why should the Los Angeles Police Protective League (LAPPL) and Association for Los Angeles Deputy Sheriffs (ALADS) be abolished?

"They serve less the community and more as a security blanket for a racist systematic error." ―Awet Moges
"They are the enemy of poor people." ―Theodore Henderson
"because LAPPL is a white supremacist gang that protects murder, corruption, domestic terrorism and misogyny and does not protect Los Angelinos." ―Leda Ramos, Professor, Cal State LA
"because they embezzle our tax dollars by defrauding our communities with fear and violence, keep violent and incompetent police from ever facing accountability, reinforce the deeply corrupt and racist system of policing, reward themselves with more tax dollars and have undue influence in their bankrolled city officials (with our tax dollars) to get an ever bigger piece of our city's tax base, all while bolstering a system of abuse and racism" ―Phillip Kim
"Anyone who gets paid by taxpayers to serve and protect them, should be judged by a jury of taxpayers when they murder someone, or violate their rights. Instead of being able to hide behind an organization that doesn't help them get away with literal murder on our streets for decades if not centuries. ...It's crazy that the state charges people money and funnels it to organizations to kill the people. Who have associations that help them get away with murder." ―Marjan Vayghan
"Because they are proactively encouraging and increasing the oppressive influence and inhumane actions and culture of law enforcement in LA, with unbridled power and money, and play a big part in supporting the further criminalization of poverty, and being Black or brown." ―David Kim



What should replace the LAPPL headquarters? What should be incorporated into the site?

"A community center w educational resources, immigration lawyers for the community, free food & clothing services, after school programs for the youth that includes art, camping trips, technology, sports, and definitely a garden. Also a harm reduction focus would be good." ―Magaly Ordonez, westlake/pico union community member & grad student
"A community center with recreational activities like a basketball court" ―monique
"eco-friendly public housing" ―Ricci Sergienko, Organizer, People's City Council
"A Community Health Center that specializes in providing free or low cost mental health services." ―Dr. Daniel Lee, Culver City Vice Mayor
"A place for trauma informed care and harm reduction centers and communities education hub." ―Theodore Henderson
"A community center like homeboy industries. Job counseling, tutoring. School counselors, trade classes. Library. Computer labs." ―Sal
"Wellness center: counseling, classes, childcare" ―Kim Abeles
"We should replace these abusive systems, with healing sites, comprised of therapists, doctors, educators, community leaders and helpers, and people who take on the Job to help people not to break them down and demolish their will. ...Their headquarters should be a place that people go to when they're in need of therapy, help, community leadership, where we can take classes in de-escalation, and peace practices." ―Marjan Vayghan



How can we support care, wellness, and safety in our communities, today and in the future?

"We need to redistribute money wasted in lappl & all state sanctioned violence to create spaces where community feels welcomed. We need people from the community to be involved in the efforts, not just outsiders from other neighborhoods. We gotta be part of the planning & implementation of a sustainable future where not only survive the everyday but thrive w each other." ―Magaly Ordonez, westlake/pico union community member & grad student
"Finance our community, give people what they need to survive" ―Pro Bono ASL
"Organize to promote civic participation and occupations in groups and organizations that support the public sector and public welfare, such as jobs for youth in education, parks and recreation, arts programming, home health care and public health, union organizing and voter registration, occupational training, mutual aid and rehabilitation. Build youth programming that employ youth in paid summer and after-school programs in these fields." ―Sesshu Foster, East Los Angeles Dirigible Air Transport Lines
"Support community voices, leadership and ongoing education on police violence and targeting of oppressed communities." ―Evonne Gallardo, resident, City of Los Angeles District 14
"white folks really need to contend with their own privilege, guilt, classism, racism, and false narrative of individualism. non-bipoc poc need to contend with their history with imperialism, their alignment with white supremacy, their silenced culture and severed history. and work to be in solidarity and if asked, uplift the oppressed. give up space to voices of those most affected by the issues. educate oneself about larger systems of oppression." ―Phillip Kim
"The government has to fund services instead of criminalization. People have to take responsibility to support each other as a community." ―Amir Whitaker, ACLU SoCal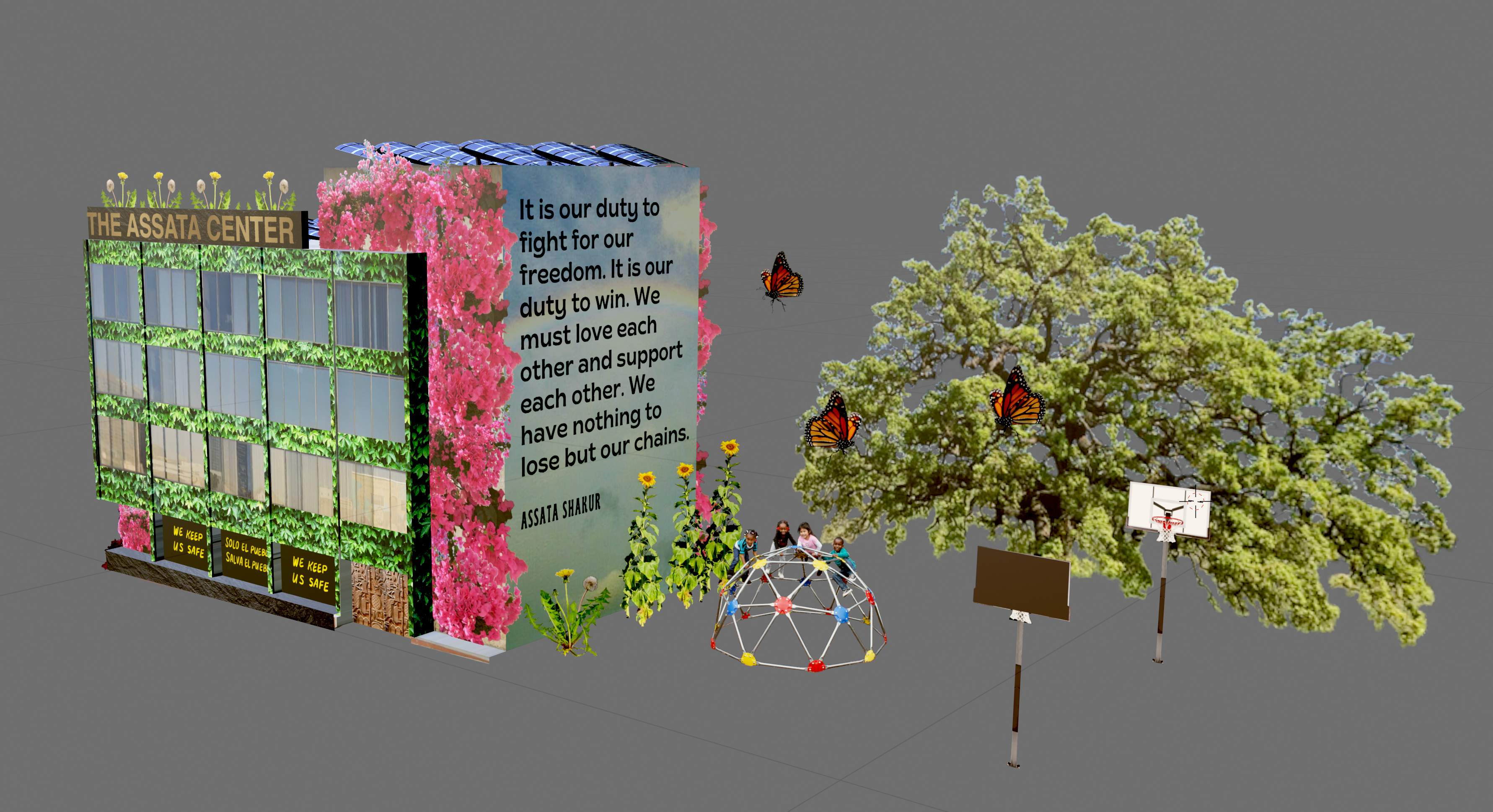 Among survey respondents, there was broad consensus that the site should be transformed into a robust and welcoming community center. This future monument to community care is called The Assata Center, in honor of the call and response chant of the quote from exiled freedom fighter Assata Shakur that ends each Black Lives Matter rally, led by members of the Black Youth Vanguard: "We have a duty to fight for our freedom. We have a duty to win. We must love each other and support each other. We have nothing to lose but our chains." This quote is emblazoned in a 4-story tall rainbow mural on the west-facing wall of the building. The name of the center (Assata is a West African name meaning "she who struggles") is proudly displayed along the roof of the building, flanked by larger-than-life dandelions, known for their medicinal properties and ability to form deep roots and proliferate widely.
Free services, such as mental health counseling, would be provided to meet the immediate needs of impacted communities. Onsite arts and culture and recreation would foster joy and mental and physical wellness. Additionally, there would also be space dedicated as a tech incubator, where technologies could be developed to promote community safety and wellness. An onsite team would be available to match unhoused people with permanent supportive housing units. Algorithms could be used to match people to housing that would meet their specific needs, including substance abuse support, pet-friendly housing, accommodations for different ability levels, on-site mental health support, choice of geographic location, etc.
The once gated and locked entrance is now replaced by ornate carved wooden doors and street-level murals that proclaim: "We keep us safe" and "Solo el pueblo salva el pueblo." Nature reigns over the formerly drab office building--fuscia bougainvillea and green ivy cover the architecture. South-facing solar panels line the rooftop, providing sustainable solar energy to power the entire site. The parking lot is reimagined as a space for play and outdoor activities. Children play on a climbing structure. A basketball court is available for anyone to enjoy. A majestic California live oak tree provides shade and honors the Tongva land on which the complex is sited. There are communal spaces for gathering and a community garden.
The Assata Center is intended as a replicable proposition, a proposal for the widespread transformation of sites of policing into publicly accessible community centers. By claiming the status of "living monument," I suggest that these sites would both commemorate and realize our dreams for an equitable and thriving future that can't come soon enough.