Over the summer of 2021, Oxy Arts hosted Encoding Futures: Speculative Monuments for L.A., an artist residency where four artists, Nancy Baker Cahill, Audrey Chan, Joel Garcia, and Patrick Martinez, were commissioned to create original, site-specific augmented reality monuments for a future Los Angeles. You can read each of the artists' reflections on their process in this series of articles and learn more about their projects here.
---
Los Angeles informs my work. When I have studio visits, collectors and curators ask me about which artists (past and present) am I looking at or what art books am I referencing. I point outside of my studio and I tell them that I pull from the landscape and the places and people of LA. Some of those people are my friends and family. A few of my family members have been priced out of the area and have had to move out of the state or a few hours away to be able to afford a roof over their head. This idea sits heavy on my mind and shoulders. When will it be my brother or my best friend? My inspiration is leaving me, and my home is starting to feel like a foreign place. The concrete foundation of where I live and pay rent now feels like quicksand. I wanted to approach my work and my summer residency at Oxy Arts with this in mind—an attempt to be proactive and present about the future, a future with family and friends.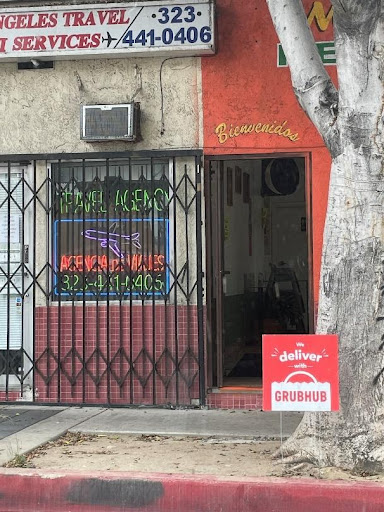 Economic violence is evident in Los Angeles County. The cost of living is going up and rent is skyrocketing. The housing market is a war zone. Communities are shrinking, and people that have been living in certain pockets of the city are being priced out of their own areas. Businesses are changing as well as the aesthetics of the buildings that those businesses were once in.
Because my work is inspired by the LA landscape, I was drawn to creating a piece that speaks to the city's future and inspires equity for the community at large. The work is placed in an empty lot on the corner of Figueroa and Arroyo Glen in Highland Park, where various members of my family have lived. I also really enjoy the location as a backdrop, too. Empty lots recall a city constantly under development, while also prompting ideas and conversations around what kinds of development I would create, and for whom. I wanted to create an artwork that imagines a future where there is affordable housing for residents that grew up in Los Angeles and in the area, or that have been here for most of their life; where housing for Los Angeles natives takes precedence over financial gain. I'm interested in creating a new kind of development that speaks to LA's history and doesn't promote the aesthetic of current or future displacement.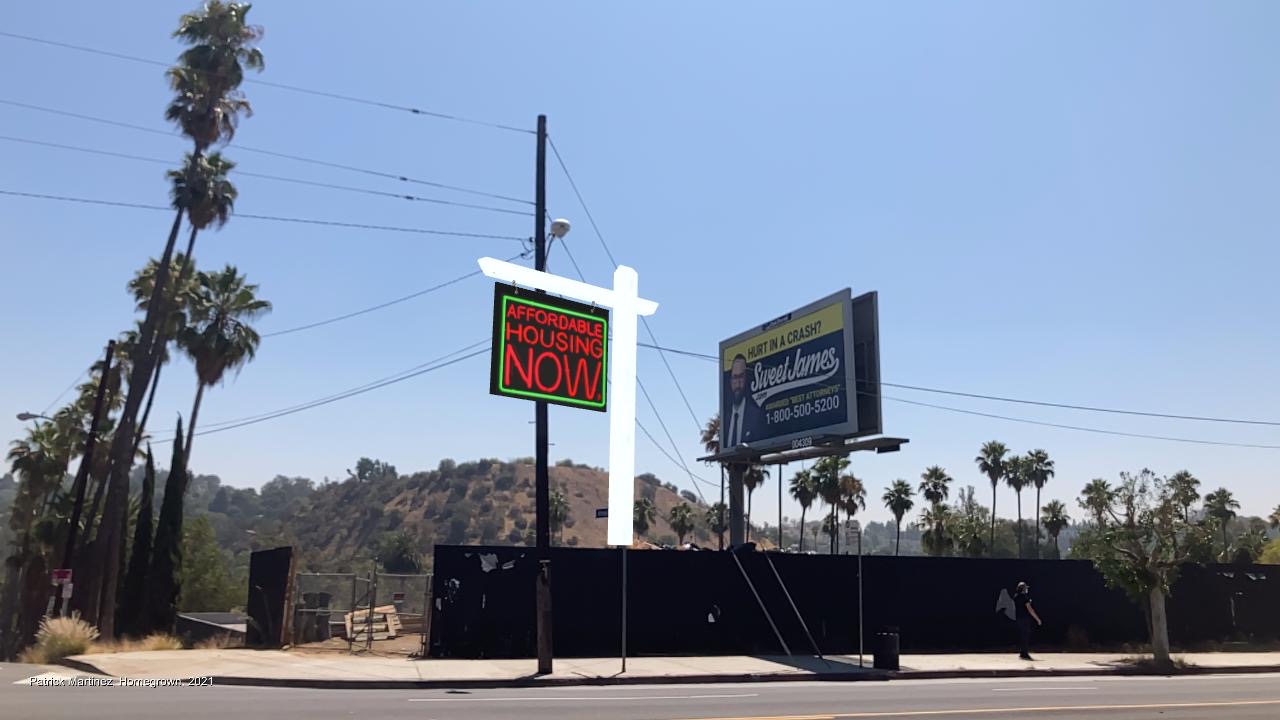 I am thinking about the past, present, and future of the area that I'm presenting my work, and about displacement. How have people in the area been affected? How will my family be impacted, and what can be done in the future? I have also been thinking about how my work is heavily informed by this area and LA more broadly, and how my future family might be derailed from a life in this great city because of the intense and economically violent housing market.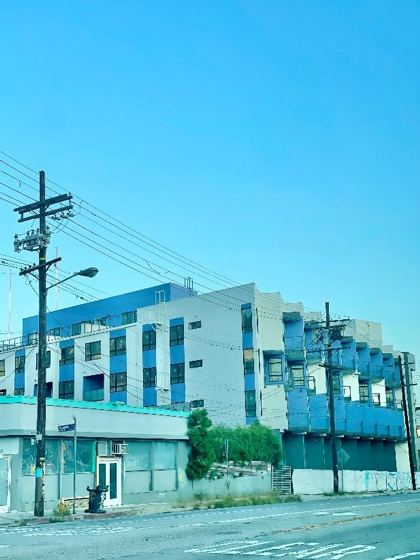 I look around the landscape for inspiration from the already existing visual vocabulary and familiar objects to create new monuments. I combine these pieces to envision something new that will address development, the housing crisis, economic violence, and the future of the people that have been and are now occupying this land. With my work and monument piece, my hope is to shed light and value to the people and places that have been discounted visually in certain pockets of LA. My work honors and elevates the people who have grown up in Los Angeles, and have created and crafted this amazing city with their limited palette; those who have built unique outcomes and have been forced out; and those who continue to grow into the future of the city with their families.