On a chilly afternoon last November, a group of Chicagoans arrived at a vacant lot in the city's south side to make history. One by one, they approached a set of steps at the back of an empty plinth, climbed to the top of the five-foot structure, and had their picture taken by artist and photographer Kelly Kristin Jones. Constructed out of plywood, the plinth looked similar to other marble and granite monuments to famous historical figures in public squares and outside government buildings. Jones, however, made her plinth modular, covering it in a maple veneer that smudged with footprints to create a visual archive of the participants. After a full day of documentation, Jones took the plinth apart and put it into storage.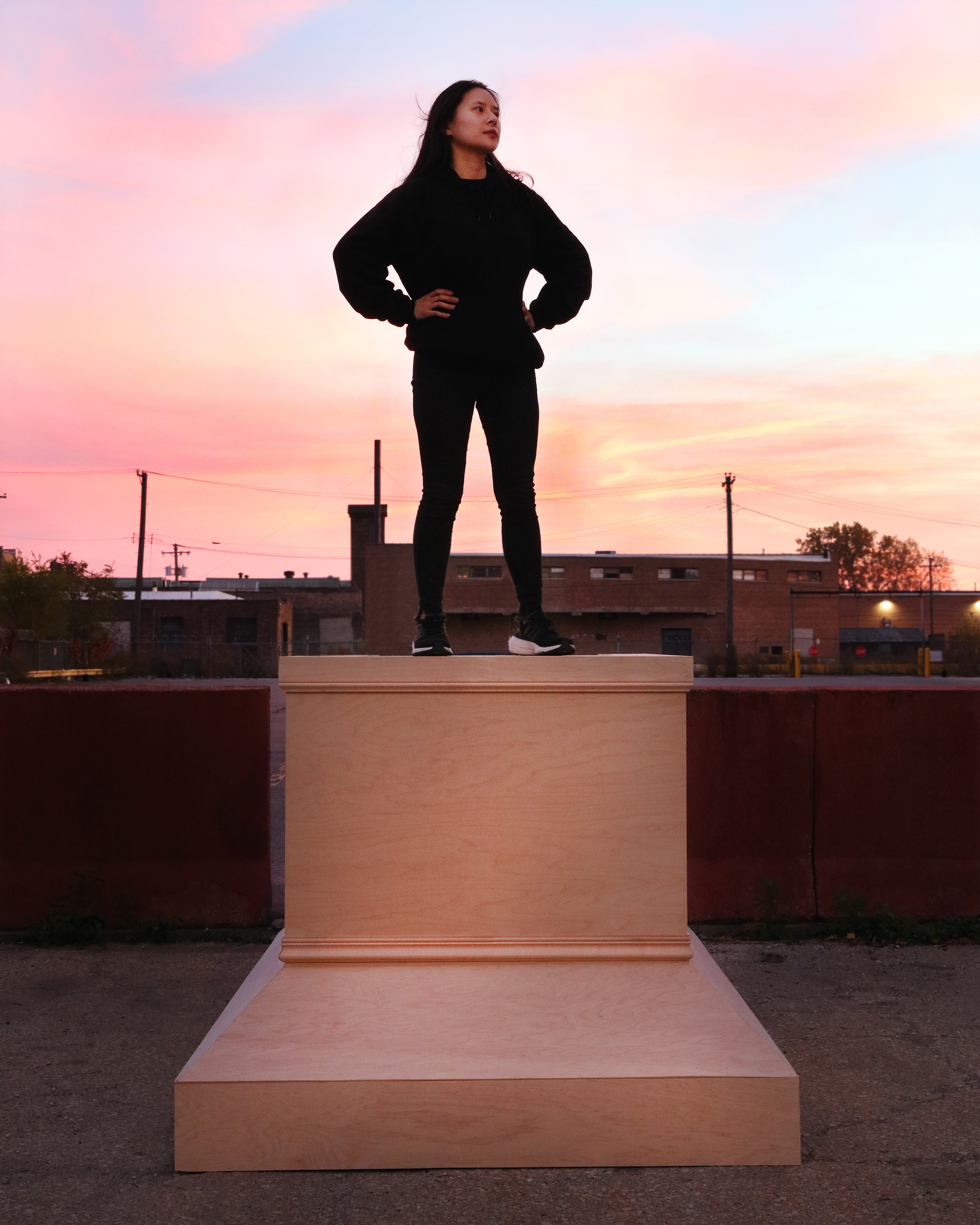 Most people that live in cities rarely have a say in what goes into public spaces. For a variety of sociopolitical reasons, including lack of resources and inability to participate in civic discourse, many residents watch as the world is built up around them. Developers, elected officials, lobbyists, preservation societies, and others with power and access decide the majority of public infrastructure. Jones's Plinths for the People was originally fabricated for the 2021 edition of the Chicago Architecture Biennial: The Available City. Running from September to December at multiple sites, the biennial was focused on collaborative, community-rooted approaches to urban design, specifically those that had the possibility to transform vacant spaces.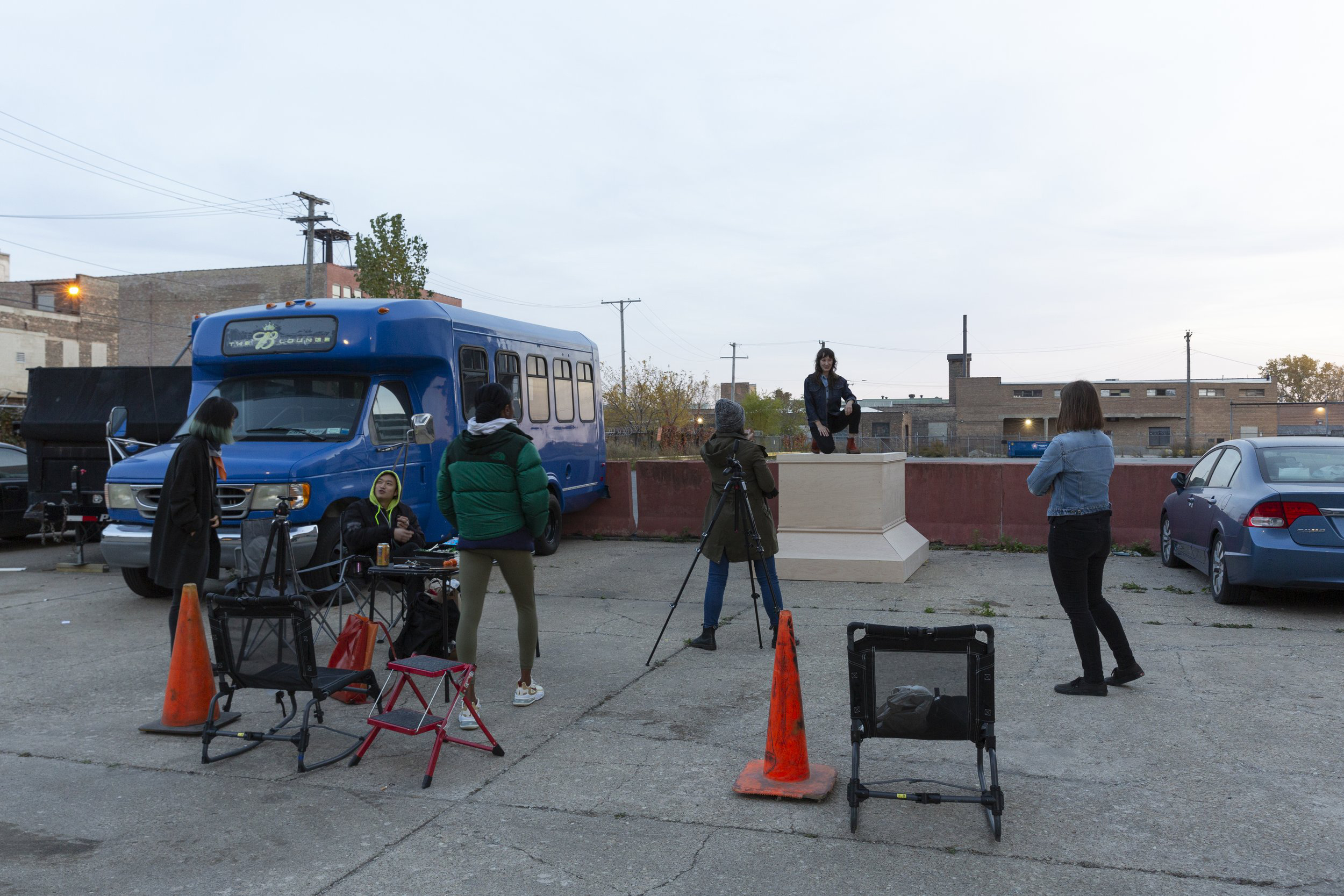 Currently, there are more than 10,000 vacant plots across Chicago; measured together, they are equal in size to the city's downtown Loop. Jones's installation takes the concept of a public monument—with its legacies of often private small-interest groups using public space to push their political agendas1—and gives it back to the people. The work also adds to a recent lineage of participatory public artworks that aim to democratize a conventionally undemocratic medium.
In 2009, artist Antony Gormley activated the Fourth Plinth commission in Trafalgar Square in London with an installation called ONE & OTHER. Gormley gave over the plinth to members of the public to do anything for one hour, every hour of the day, for 100 consecutive days. The hour-long collaborations and performances included a woman posing nude for a sketch study, a mariachi band, and someone who would read his text messages aloud. And in 2017, artist Mel Chin installed two fully ADA accessible plinths in the city hall courtyard in Philadelphia in a prototype monument called Two Me as part of Monument Lab's citywide exhibition.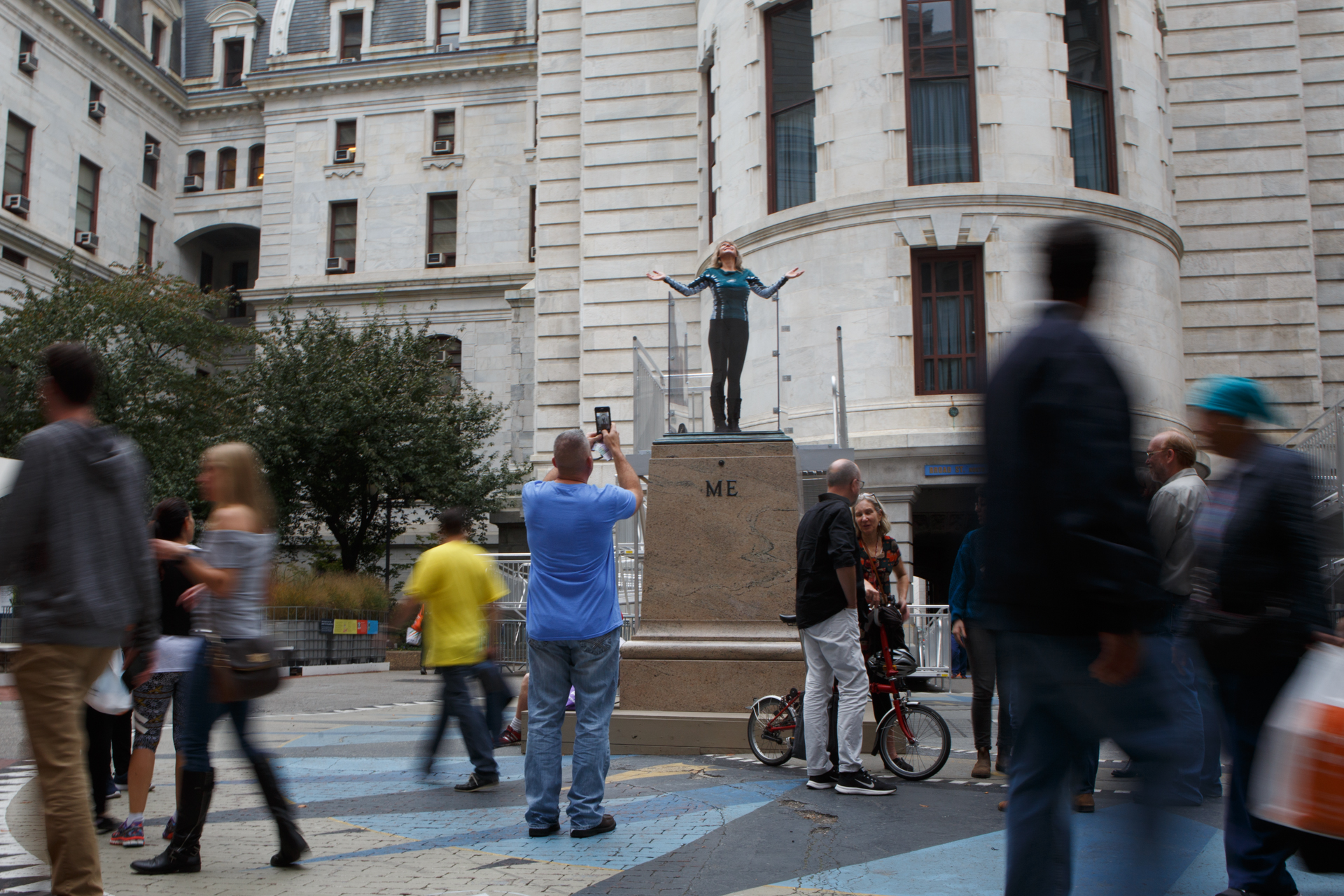 Over 50,000 people participated in Chin's installation, ascending the seven-foot-tall granite pedestals to do whatever came to mind: read poetry, pose for photographs by friends and family below, or sing a song. According to the artist, the piece was modeled after and directly confronted a nearby statue, Citizen, dedicated to local businessman John Wanamaker. Inscribed with the word CITIZEN and erected in 1927 between two world wars and on the eve of a years-long national economic depression, the memorial was intended as a reminder of the unifying concept of the American citizenry and the republican values the word inspired. Chin's pedestals, each inscribed with the word ME, complicate our understanding of "citizen" and who has traditionally been included in the American democratic project.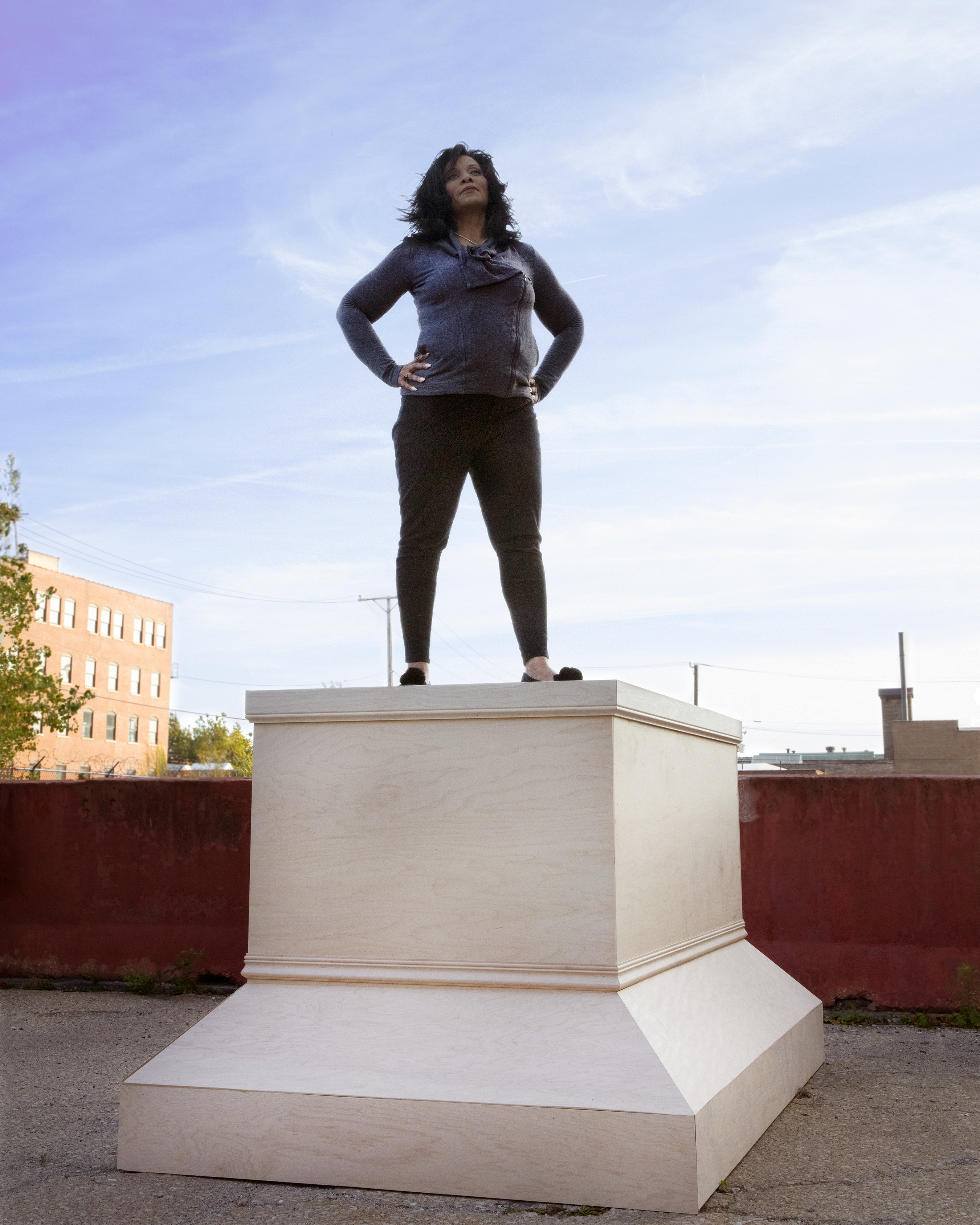 Unlike Gormley and Chin, who situated their temporary artworks in large city centers and in dialogue with surrounding historic landmarks and municipal buildings, Jones placed hers in emptied lots scattered far from the downtown core of Chicago. These in-between places are either owned by some out-of-town property manager or by development companies who restrict access to them. But they aren't entirely cut off to public use. In fact, they're often reclaimed by neighbors, who will pass through an opening in a chain-link fence as a shortcut to the L or corner store, or use them as extra parking to avoid the street. Jones chose these spaces because her work not only comments on the lack of representation of marginalized people in public spaces, but also on marginalized land—that is, the privatization and development of land that was once public.
Dispossession and segregation are very much part and parcel of Chicago's urban landscape. Entire neighborhoods, including West Pullman and Englewood on the south side, were designated for African American families in legislation written into the New Deal, and reinforced through years of redlining tactics that would determine which housing was insured through government mortgages.2 Plinths has so far appeared in two Chicago locations, Bridgeport and Hyde Park—neighborhoods on the north end of the city's south side and at the frontlines of new battles over gentrification. "We don't have equitable infrastructure across the city," Jones explained to me in a recent conversation. "Plinths for the People points to the failures of both hard and soft infrastructure in the city while lifting up, quite literally, histories that have long been underrepresented."
Chicago also has histories of land theft common to the American colonial expansion at large. The city sits at the heart of what was a large Indigenous trading network comprising the Ojibwe (Chippewa), Odaawaa (Ottawa), and Bodéwadmiké (Potawatomi)—together known as the Council of the Three Fires—as well as the Myaamiaki (Miami), Hoocągra (Ho-Chunk), Mamaceqtaw (Menominee), oθaakiiwaki‧hina‧ki (Sauk), Meškwahki·aša·hina (Fox), and Kiikaapoi (Kickapoo) peoples. Over a series of broken treaties from 1795 to the 1833 Treaty of Chicago, tribal nations ceded to the federal government all lands in Michigan Territory south of the Grand River, and were forced further west.3 In the late-19th century, the Pokagon Band of Potawatomi claimed a plot of land created from landfills after the Great Chicago Fire. When city officials tried to dispossess the Pokagon from this land as well, the tribe took them to court. The resulting 1917 Supreme Court case decided that the Potawatomi's claims were meritless, as the tribe "abandoned" the land when they were forcibly removed through generations of settler colonialism.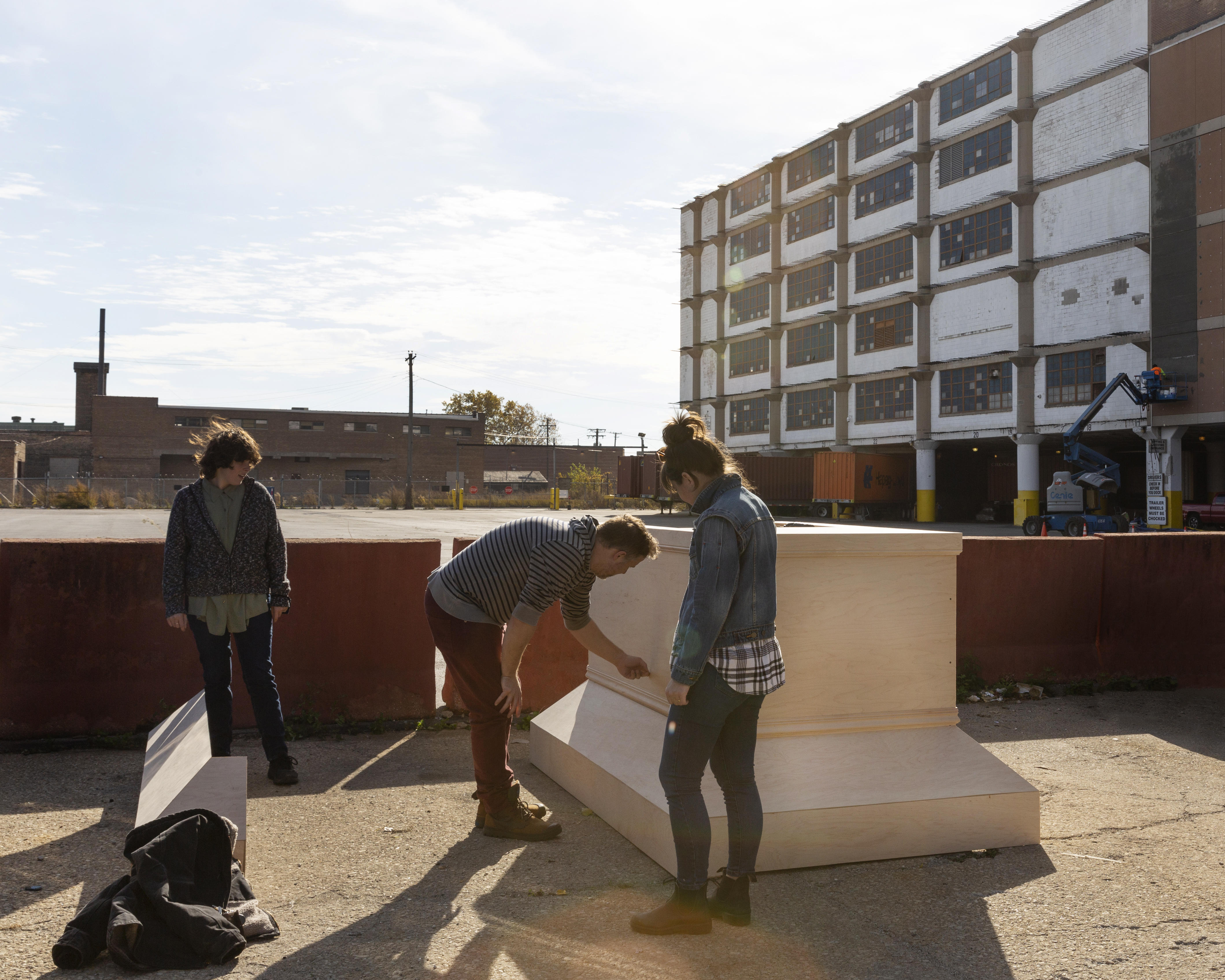 Public monuments are not always about propagating a mythical past; they have also been used to promote future land development. These ties have sometimes been explicit. For example, as Kirk Savage has explained, the development of Monument Avenue in Richmond, VA was part of a larger municipal business plan for expanding the city. City officials saw the opportunity to place monuments in a new suburban district to attract a southern elite class of professionals who pushed out the former Virginia planters post-Reconstruction. It was an "entirely separate zone," Savage writes, "a city-sponsored precinct fully integrated into the modern civic fabric and clearly intended to showcase civic progress."4 By inviting a different kind of civic participation, Plinths reminds us of these uneasy uses. It also invites us to reconsider how that push toward so-called "progress" leaves behind whole communities and their stories to fit a tidy narrative.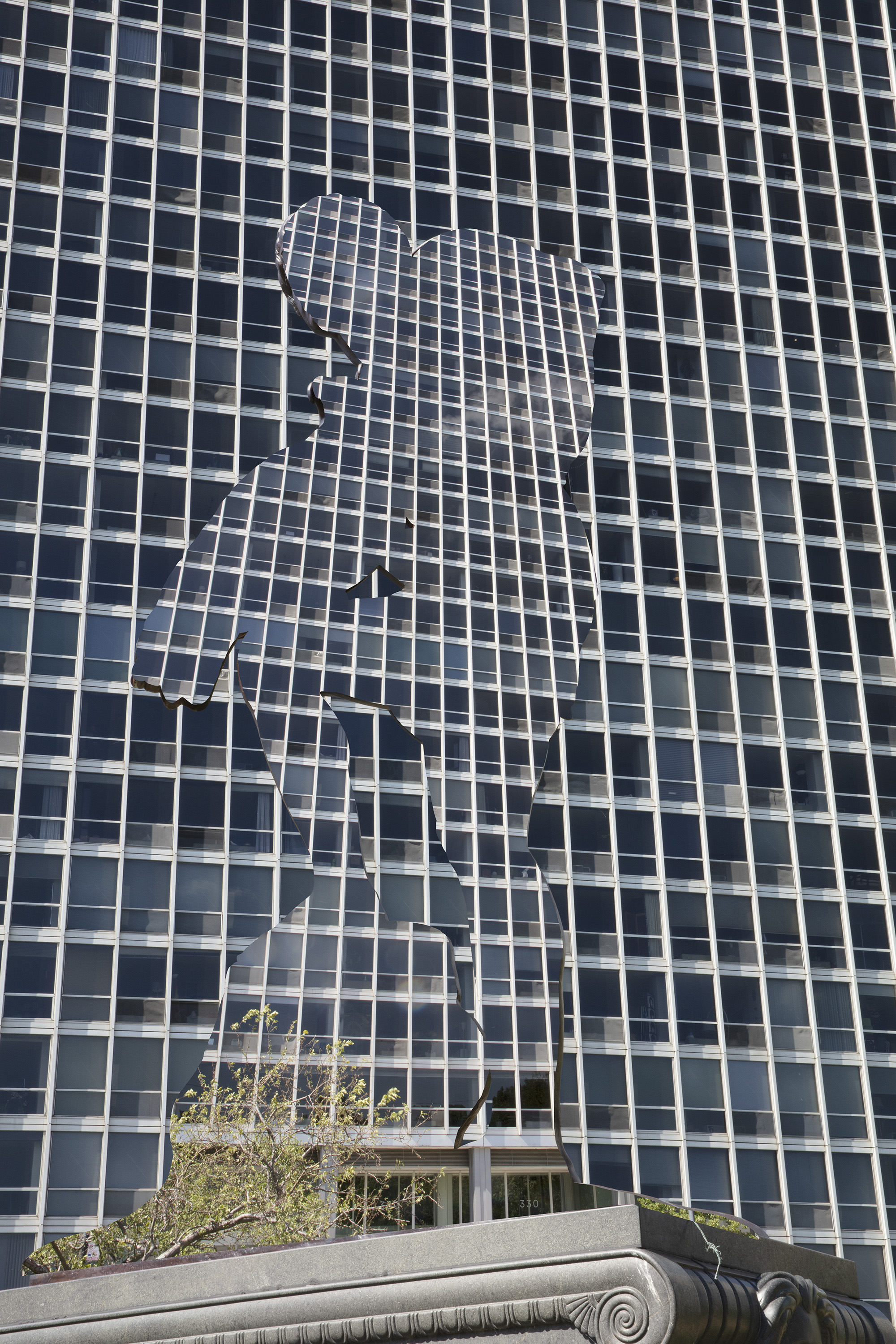 Jones was born and raised in Chicago's west side, and for nearly a decade, she has interrogated how collective memory shapes and is shaped by public space. This practice has often taken the form of photographing physically obscured public monuments in order to interrupt the political narratives they promote, as in her 2018 Dodging Tools and Coverings series. More recently, Jones has taken an even more interventionist approach, by working with monumental sculpture itself, including Plinths.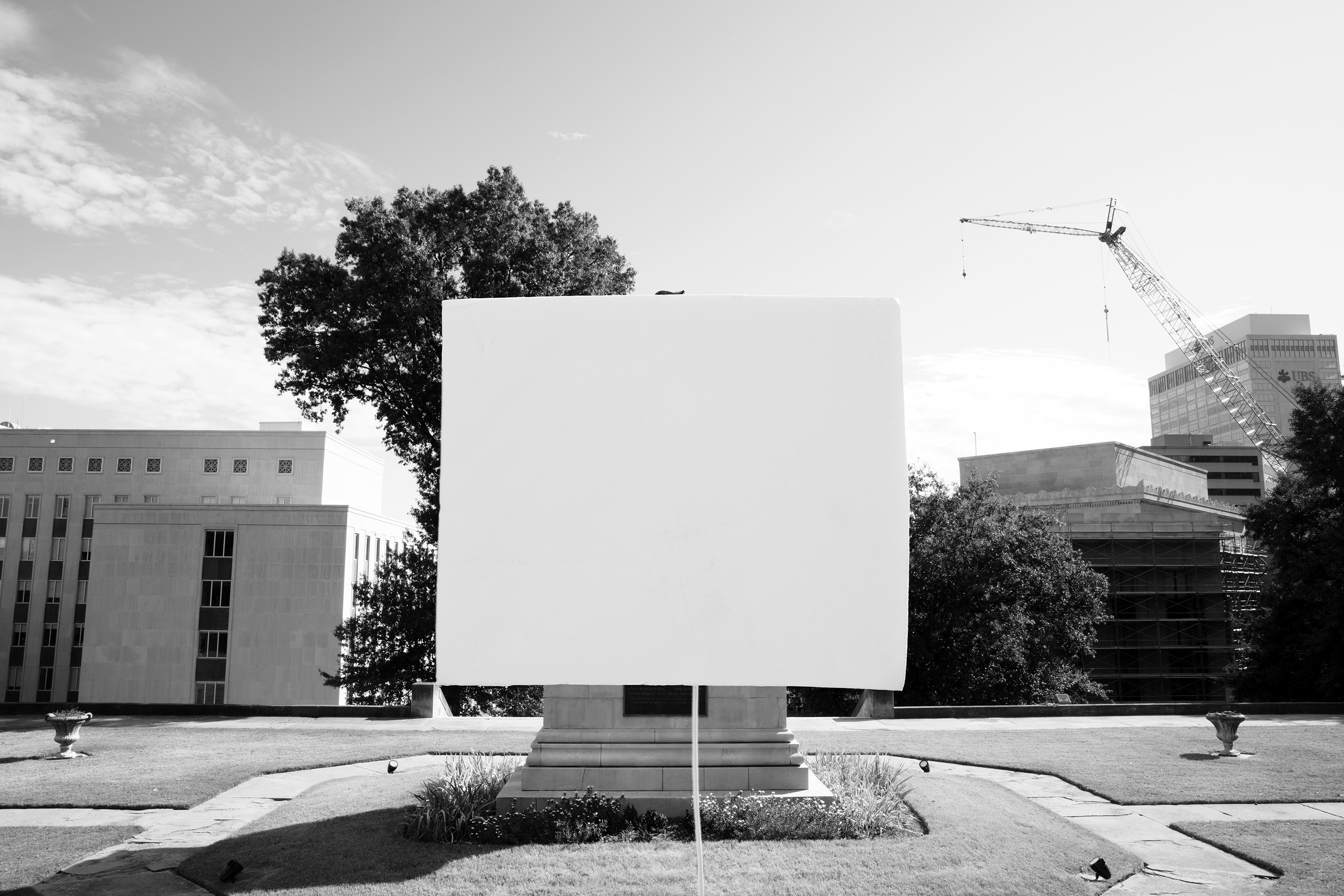 Plinths for the People isn't out of public view permanently; the artist plans to reinstall it at other sites around the city post-biennial. Jones also hopes to make it fully physically accessible, à la Chin's pedestals, with a ramp at the back instead of stairs. "I want this platform to travel to every space historically overlooked and underserved by the city," the artist told me, "so people can see what is possible and help build what comes next."