As a Monument Lab fellow, my goal is to expand the nationally recognized Commemorative Justice movement which I created to address the systemic race-based inequity I and many other narrative reshapers experience when faced with the overwhelming efforts which are still being made, all these hundreds of years later, to deliberately submerge the voice of self determined warriors for Black freedom.
Sadly, America's preservation community is a breeding ground for blatant racists to unleash their toxic agendas with no systems in place to challenge them. There is a serious lack of diversity in this sector and far too few opportunities for the true keepers of Black Freedom narratives to access the resources needed to make an impact.
In the year 1800, Brother General Gabriel and his invisible army set it off on Richmond's enemies of Black Freedom. By official proclamation of City of Richmond Mayor Levar M. Stoney, Untold RVA presents GABRIEL WEEK returns for year two on August 26 thru September 01, 2019.
Without these powerful narratives in the public consciousness, the accomplishments of our ancestral past will not be remembered and the emerging social justice leaders of tomorrow will have no heroes and sheroes to inspire their critical contributions to the fight for racial equity.
It is my life's work to address these challenges with artful innovation and social entrepreneurship and become a prosperous example of Black Entrepreneurship in the memory culture landscape.. My goal is to help once-marginalized cultural communities accumulate generational wealth by incorporating their unique ancestor stories into the critical work on the front lines of our most important movements.
My 2019-20 trajectory for COMMEMORATIVE JUSTICE.
Making the truth about Richmond's deliberately submerged racist roots more easily accessible for all ages and backgrounds without requiring anyone have to read in order to know

Ensuring the amplification and inclusion of young Black voices as Virginia poises itself to harvest even more of the current 7 BILLION DOLLAR statewide Heritage Tourism marketplace

Expanding the Commemorative Justice movement by commissioning cohorts of untapped content creators to design low cost/high visibility artful disruptions of Richmond's shameful homage to Lost Cause Confederate nostalgia and statuary

Becoming a replicable prototype for other southern cities struggling with how to use people-powered tactical urbanism to address the negative effects of toxic narrative exclusion and racist public art

Establishing a weekend institute to lead Commemorative Justice intensives for institutional leaders from the preservation community who wish to learn how to invest full provisions for similar work in their communities, using Untold RVA's success in Richmond, VA as the prototype

Expanding my existing COMMEMORATIVE JUSTICE workshops into cohort format and funding six month, semester long micro-projects and making significant financial investments in non-traditional contributors to ancestor-driven racial equity nationwide.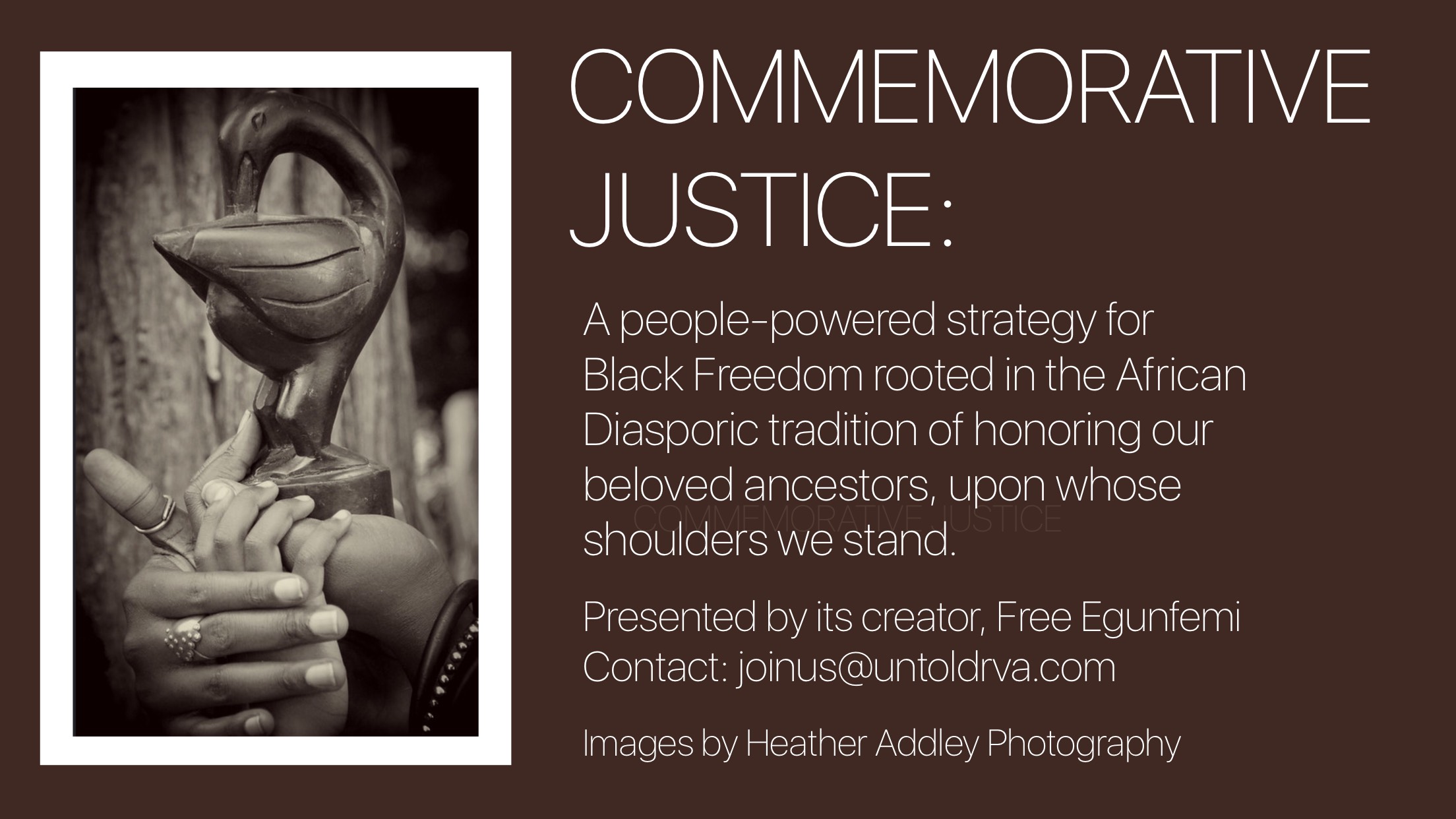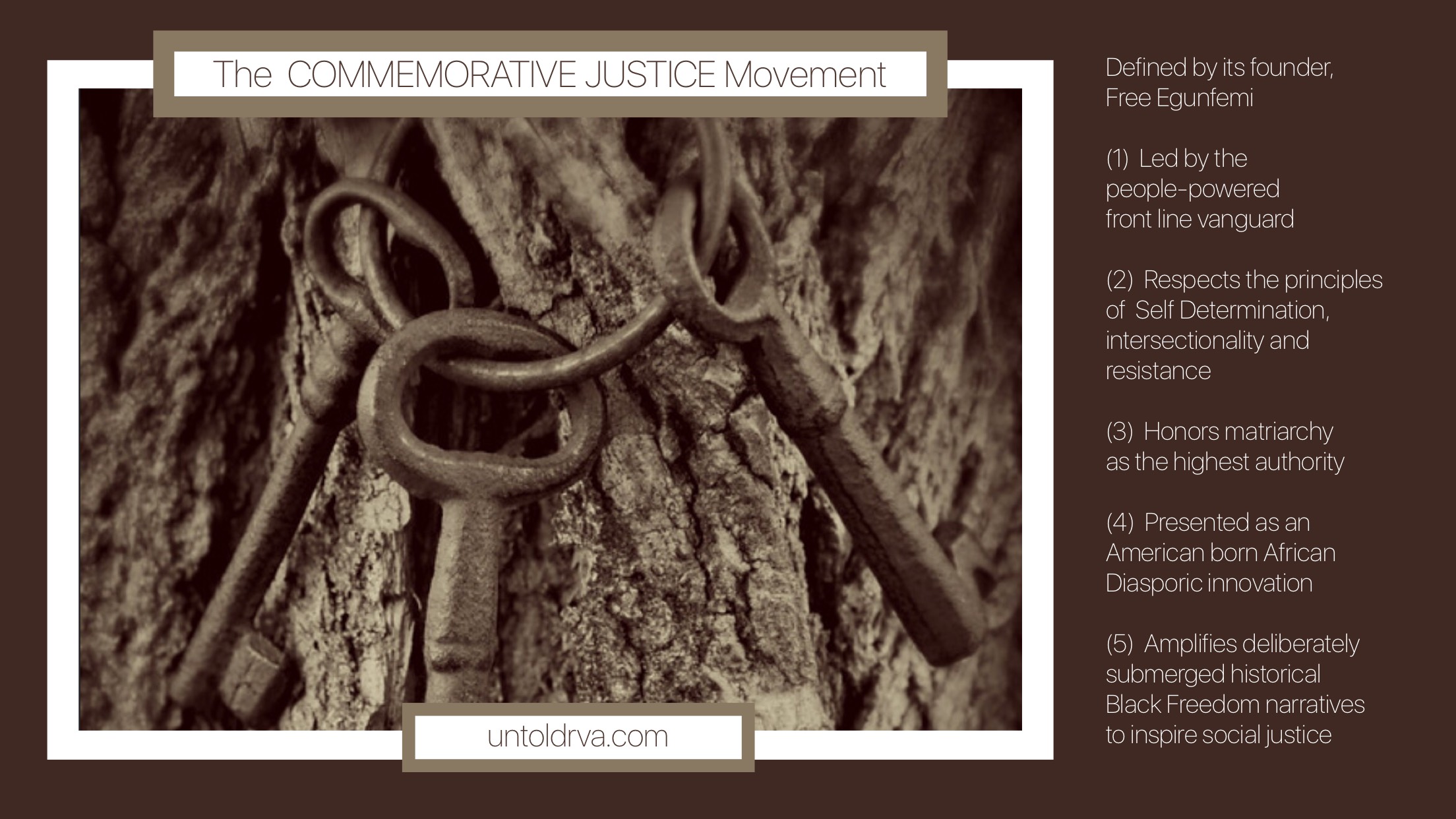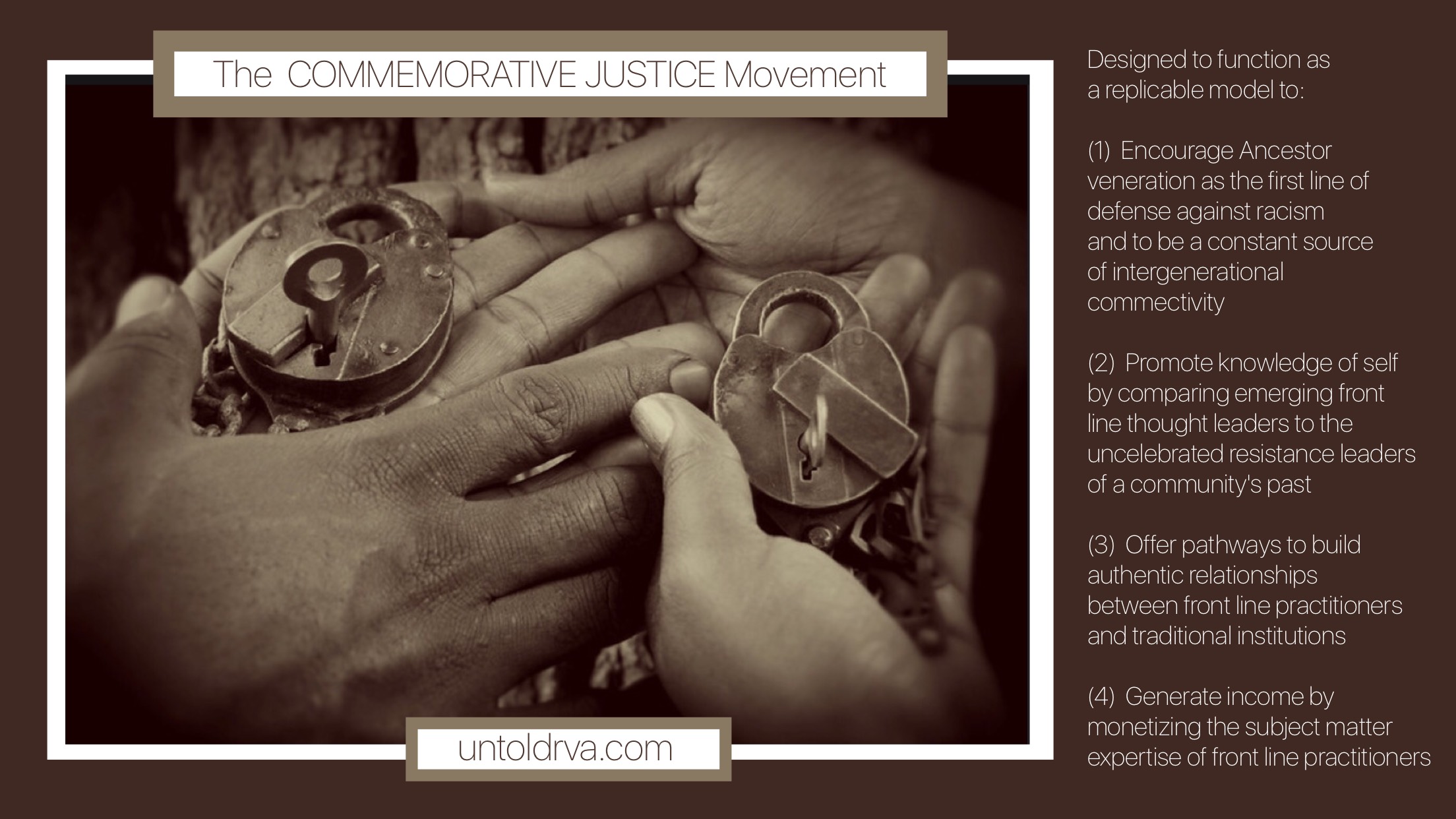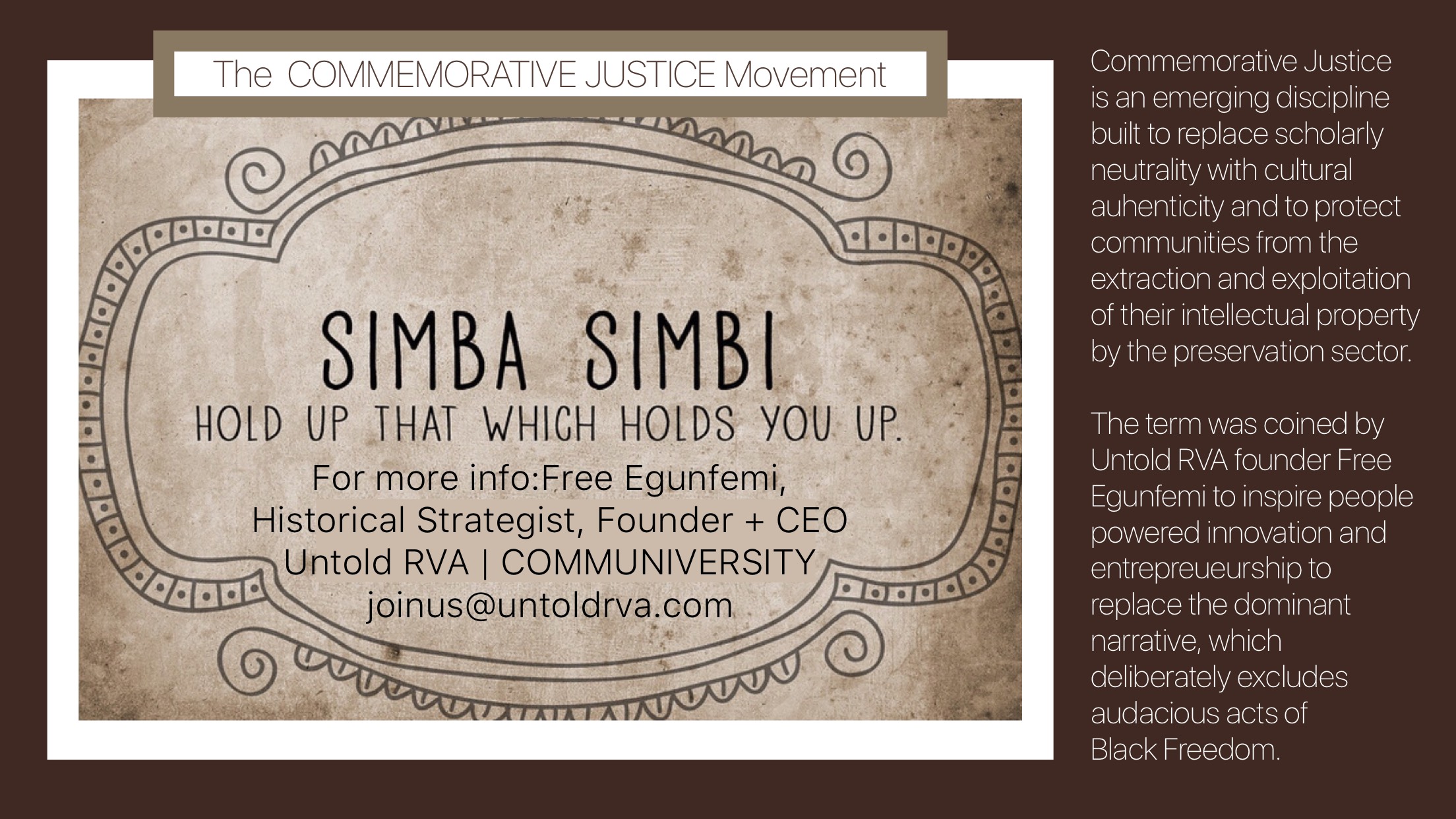 IMPACT TO DATE
This is the article which propelled me onto the national scene as the founder of the Commemorative Justice movement:
https://medium.com/@usdac.us/prototyping-cultural-democracy-series-part-3-stick-move-commemorative-justice-in-richmond-va-ad47fbfdc644
When Al Jazeera producer James Gannon came to Richmond in search of ways to begin undoing the wrongs of his direct lineage ancestor Robert E. Lee, everyone he spoke with insisted that he spend the day with me. This video follows part of our time together:
https://www.facebook.com/aljazeera/videos/292773301339361?sfns=mo
This PBS documentary, produced by Air Media, was a pivotal milestone in my work reclaiming Richmond's Black Freedom narratives:
https://www.pbs.org/video/finding-america-may-it-be-so/
In Spring 2018, Next City followed me in tactical urbanism mode and released an extremely thorough article that helped anchor my work as a nationally recognized community design best practice:
https://nextcity.org/features/view/tactical-urbanist-pasting-narratives-of-enslaved-people-all-over-richmond

Click here to download the .PDF version of this essay.
--- Contact Free Egunfemi at joinus@untoldrva.com ---