"This grand work of national regeneration...must now address itself, with full purpose that the work shall this time be thoroughly done."
–Frederick Douglass
Monument Lab is excited to announce Re:Generation – a nationwide participatory public art and history project launching in Spring 2022. The goal: to elevate the next generation of monuments that reckons with and reimagines public memory. The project subgrants a total of $1 Million across ten local field offices led by collaborative teams of artists, educators, storytellers, and organizers; each working on a commemorative campaign rooted in the living history of a neighborhood, city, or region. Monument Lab's Re:Generation opens across the country from May Day–Labor Day 2022. Re:Generation is supported by The Andrew W. Mellon Foundation's Monuments Project.
The Re:Generation field office teams hail from across the varied geographies of the United States, including major cities, rural regions, tribal communities, borderlands and U.S. territories. The participants were selected through a far-reaching open call conducted earlier in 2021, which brought in hundreds of applications from every state, most territories, and numerous tribal communities. Potential project teams proposed new and existing public-facing art installations, community-based research and education, and social justice initiatives, and, notably, emphasized the potential to shift local and regional narratives, particularly in contexts where interventions into the commemorative landscape could foster wider transformations. Applications were reviewed by Monument Lab and a jury of external curators, artists, educators, and collaborators.
The announcement of the ten selected teams and projects offers a roadmap for a project focused on the future of public memory in this country. Re:Generation calls for expanded platforms and models of commemoration, acknowledgment, justice, and belonging. The cohort of teams' projects is part of a much larger and still growing community of memory workers who explores how history lives with us everyday to celebrate commemoration by elevating stories embedded within communities that foster repair and healing.
The Monument Lab Re:Generation locations and teams:
Montgomery, Alabama – The More Up Campus
Tucson, Arizona – La Doce
Los Angeles, California – The Land Under the Plinth
St. Louis, Missouri – Black Herstory Initiative
Queens, New York – Tandang Sora
Philadelphia, Pennsylvania – ConsenSIS
Cayey, Puerto Rico – Archivos del Caribe
Rapid City, South Dakota – Rapid City Indian Boarding School Lands Project
Matewan, West Virginia – Courage in the Hollers
Dinétah, Four Corners Region – Walking with Dinétah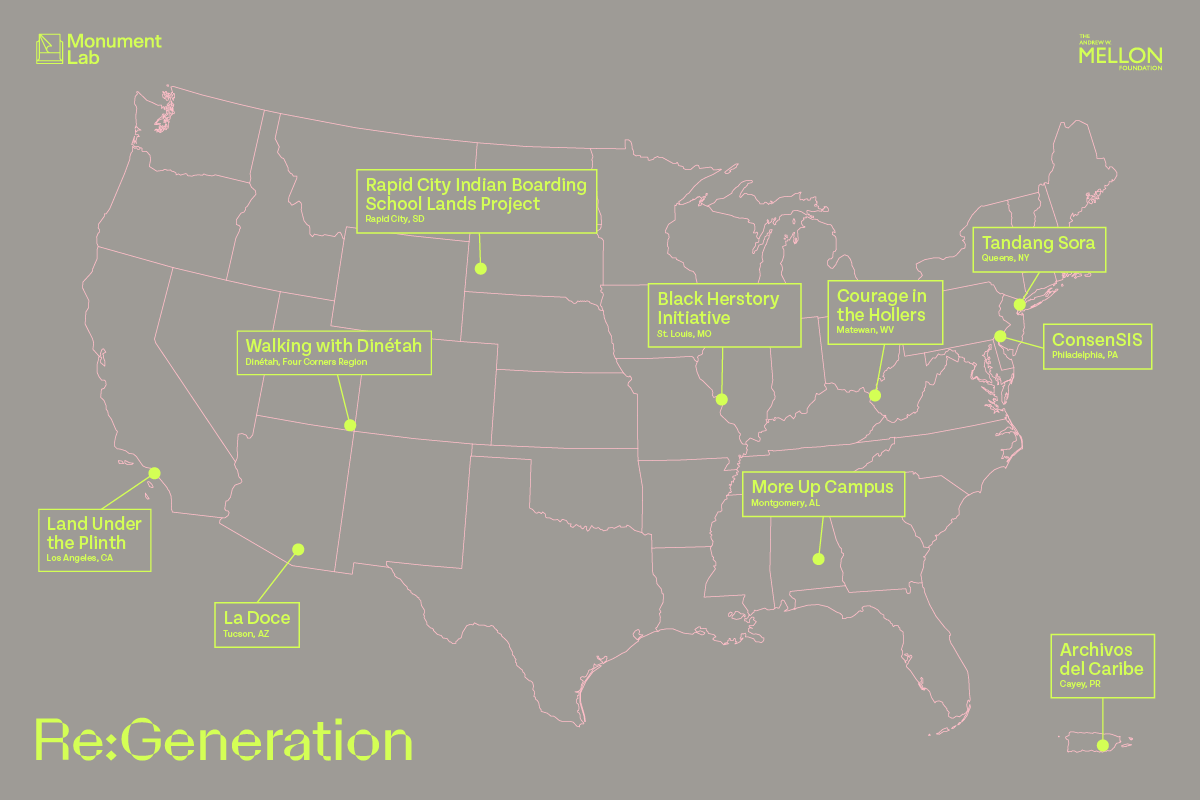 Each selected Re:Generation team will receive a total of $100,000 toward its local commemorative campaign and is part of the nationwide project that invites and challenges us to re-envision monuments of the past, present, and future together.
---
More about the Re:Generation teams
Montgomery, Alabama
In a city that both claims status as the "Cradle of the Confederacy" and "Birthplace of the Civil Rights Movement," the More Up Campus: The Mothers Of Gynecology Monument will create a holistic space where art, history, and health come together and conversations take place around the legacy of slavery, Black women's maternal health, and reproductive justice.
Team members include: Michelle Browder, Deleso Alford, Stephen Browder, J.C. Hallman, and Geneva Watford.
Tucson, Arizona
To contest gentrification in a major urban center within the U.S.-Mexico borderlands, La Doce envisions flipping notions of who gets honored with monuments from heroic mythical figures to local residents through the creation of "altars to barrio workers" and "sites of memory and resiliency" for a new blueprint of recognition.
Team members include: Imelda G. Cortez, Lane Santa Cruz, and Carlos Valenzuela.
Los Angeles, California
The Land Under the Plinth will recover the spaces on which monuments to colonial figures once stood and dedicate an emergent place for engagement with the Tongva community and City of Los Angeles, including a learning center, research opportunities, and new markers to uplift visions for how L.A.'s First Peoples want to project themselves into the future of this metropolis.
Team members include: Joel Garcia, Mercedes Dorame, River Garza, Kimberly Morales-Johnson, and Samantha Morales-Johnson.
St. Louis, Missouri
Black Herstory Initiative, a community-driven process in partnership with the Griot Museum, seeks to honor living Black women whose contributions span political, social, and cultural spheres through the collection of oral histories and the installation of "memory walks" across numerous neighborhoods of the city.
Team members include: Lois D. Conley, Eric Ellingsen, Precious Musa, De Nichols, Andrew Olden, Darian Wigfall, Tracy Williams, and Alana Marie Woodson.
Queens, New York
Tandang Sora spotlights the stories and lineage of care labor and immigration in Queens, the most ethnically diverse urban area in the world. The work is inspired by the legacy of Filipina revolutionary Tandang Sora and will serve as a monument to transnational care workers in the diaspora located in the heart of the New York City Filipino community.
Team members include: Jaclyn Reyes and Xenia Diente.
Philadelphia, Pennsylvania
ConsenSIS summons "sisterly history" to preserve the past and present literary legacy of Black women poets in Philadelphia. By gathering stories through a survey, hosting a reunion, and prototyping historic markers, the project aims to spark new traditions that commemorate a vital creative community in a city where Black women's contributions to history are often buried under cobblestones and colonial landmarks.
Team members include: Yolanda Wisher and Trapeta B. Mayson.
Cayey, Puerto Rico
Archivos del Caribe, a community-based and community-led archive and literary collective, will spotlight public history across rural areas of Puerto Rico through participatory methods – oral history interviews, archival digitization of family records, and architectural surveys of Cayey's historic core – to provide a greater dimensionality to the complex past and present of this region for future generations.
Team members include: Leticia Berdecia, Nicole Collazo Santana, Natalia Gulick de Torres, Roberto Guzmán-Hernández, Emilie Raboteur, Luis Rivera Jiménez, Paula E. Roque Rivera, Roudhia Sellin, Ana Teresa Solá Rivière, and Gabriel Torres Ojeda.
Rapid City, South Dakota
Rapid City Indian Boarding School Lands Project will develop an interpretive site and memorial to protect and remember the children who died at the Rapid City Indian Boarding School, a federal assimilation school that operated from 1898 to 1933, and explore how the distribution of the school's land in the 1940s contributed to ongoing tensions within their community in the Black Hills.
Team members include: Bobbie Koch, Eric Zimmer, Valeriah Big Eagle, Kibbe Brown, Sandra Fire Lightning, Eirik Asa Heikes, LaFawn Janis, Tatewin Means, Lorraine Nez, Jennifer Read, Amy Sazue, Beverly Stabber-Warne, Heather Dawn Thompson, and Robin Zephier.
Matewan, West Virginia
In the heart of central Appalachian coalfields, Courage in the Hollers: Mapping the Miners' Struggle for a Union will commemorate the history of labor organizing by memorializing the Battle of Blair Mountain and celebrate the collective efforts of a multiethnic, multiracial working class who stood up against oppression 100 years ago in the rural landscape where it took place.
Team members include: Mackenzie New Walker, Erin Bates, Mike Johnson, Brian Lacy, Shaun Slifer, Bobby Starnes, Terry Steele, and Kyle Warmack.
Dinétah, Four Corners Region
Walking With Dinétah will co-create strategies for cultural resilience and healing through spatialized oral histories, memory work, mapmaking, and participatory art—in other words, through Hózhó náhásdlíí', or "walking in beauty."
Team members include: Tonia Sing Chi, Samantha Eddy, Kassie John, and Shundana Yusaf.
---
Re:Generation Team
Co-Curators: Paul M. Farber and Sue Mobley
Project Management: James Britt, Greta Gabriel, and Nico Rodriguez
Designer: William Hodgson
Research Advisor: Thomas J. Adams
Monument Lab Team: Kristen Giannantonio, Jen Cleary, Patricia Eunji Kim, Naima Murphy Salcido, and Sarah Spencer
Communications: Florie Hutchinson, Dina Paola Rodriguez, and Jose Vazquez
Video and Photography: Daniel Jackson and Naomieh Jovin
Monument Lab Board of Directors: Lola Bakare (Secretary), Ellery Roberts Biddle, Amari Johnson, Monica O. Montgomery (Vice Chair), Stephan Nicoleau (Treasurer), Kirk Savage, and Tiffany Tavarez (Chair)
Supported by: The Andrew W. Mellon Foundation
Re:Generation Jury
Chris Dier, Stephanie Garcia, Theresa Hyuna Hwang, Patricia Eunji Kim, Katrina Phillips, Justin Reid, Andrea Roberts, Naima Murphy Salcido, Kirk Savage, Geoff Ward, and Marisa Williamson.
Lead Image: Yolanda Wisher and Trapeta Mayson from ConsenSIS, Sculpture Garden, Philadelphia, Re:Generation, 2021 (Naomieh Jovin)