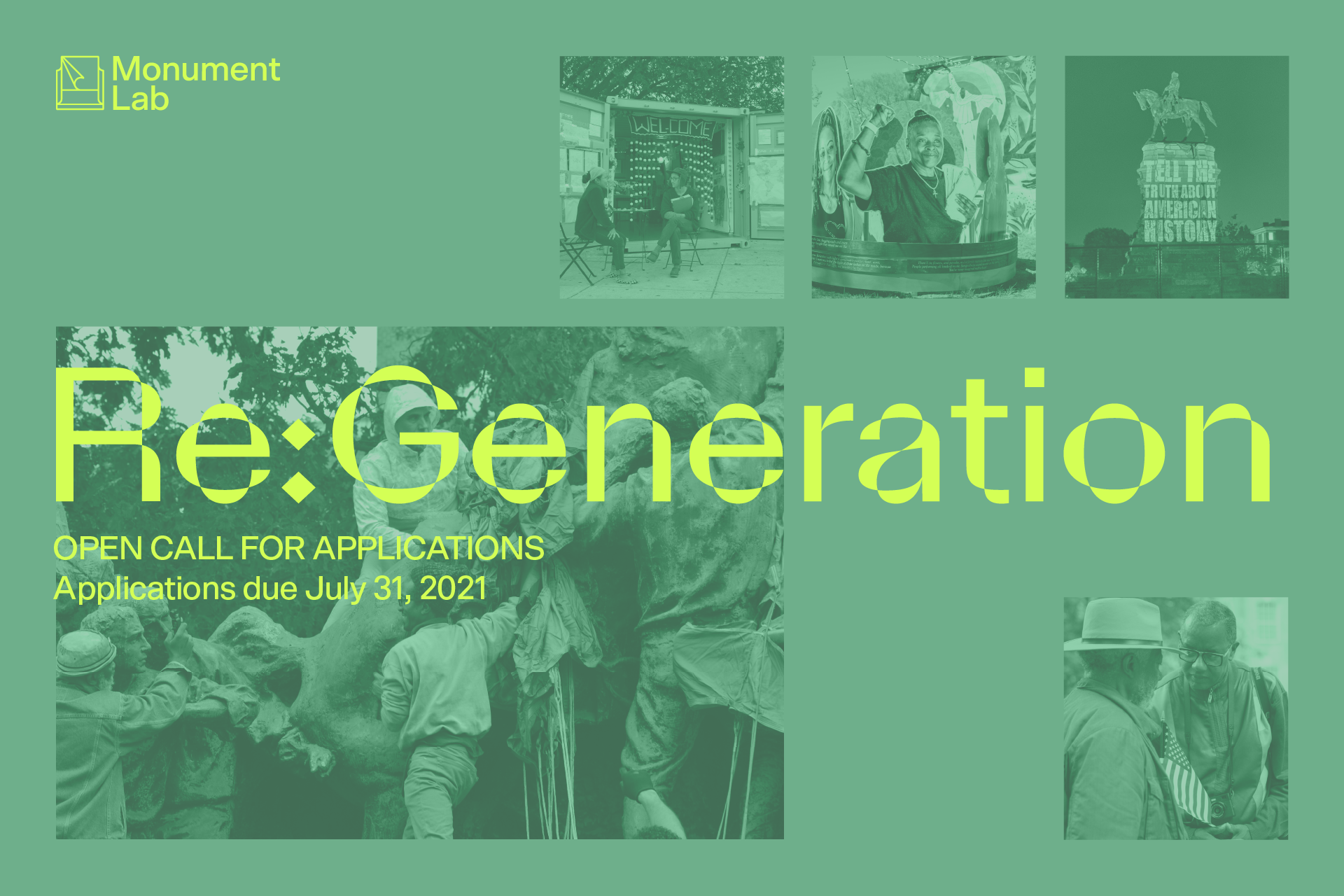 Monument Lab is excited to announce Re:Generation – an open call for locally-grounded, grassroots art and justice projects in 2022. We invite applications from collaborative teams rooted within a neighborhood, city, or region in the United States inclusive of Indigenous nations and communities, U.S. territories, and cross-border collectives. Each Re:Generation team will receive a total of $100,000 toward their local commemorative campaign or project. Re:Generation is supported by The Andrew W. Mellon Foundation.
The Re:Generation open call seeks applications from teams of two or more individuals working together. Each individual team may propose a new or expand upon an existing public-facing art, research, commemoration, and social justice project. Selected teams will also collaborate across Re:Generation sites and in coordination with Monument Lab on a broader campaign of public engagement and participatory data collection in Spring/Summer 2022. We especially encourage applications for projects that have the potential to shift local and regional narratives, particularly in contexts where interventions into the commemorative landscape could foster wider transformations.
Proposed projects might include: reimagining a city's arts commission; developing a reparations-driven policy for public parks and places; redesigning public spaces with new proposed monuments through the lenses of racial and gender justice; visualizing narratives and networks of diaspora and migration; developing a public curriculum that tells a region's story of urban renewal, land dispossession, or rural exploitation; creating a digital resource and archive that incorporates oral histories and a virtual interface or public exhibition; devising new art and history installations at sites of legacy monuments; or pursuing a variety of other approaches to creative campaigns.
Through Re:Generation, Monument Lab is seeking a cohort of ten teams that represents a broad diversity of commemorative practices, participatory research models, and geographic contexts. We are especially interested in applications from underrepresented groups and regions. We are committed to growing and sustaining our field by supporting and collaborating with local grassroots artists, educators, organizers, researchers, and memory collectives while building purposeful relationships across locations. Selected teams will operate projects synchronously in Spring/Summer 2022.
Monument Lab recognizes that projects of this nature exist within a broad range of contexts and are most successful when grounded in local communities and developed with consideration for the unique relationships, conditions, and support networks present in each geographical location. We are committed to working with each host community to be in support of the goals of each team. Re:Generation teams will be anchored with a local organization, which will also serve as its fiscal sponsor. Applicants may have a local organization in mind or work with Monument Lab to find a suitable host. Additional training, capacity building, and knowledge sharing for teams across the country will occur in the year leading up to the coordinated initiative, including an in-person retreat in Philadelphia (October 2021).
For more full details, selection criteria, key dates and the link to apply, visit our Re:Generation page.
- Informational webinar #1, Friday, July 9, 2021, 12pm EST (Register Here)
- Informational webinar #2, Thursday, July 22, 2021, 12pm EST (Register Here)
- Applications are due by July 31, 2021 by 11:59 pm EST.
- The 10 teams will be announced in Fall 2021.